Free shipping
Free shipping
on all orders over 100€*
1928 - The beginning of history Le Glazik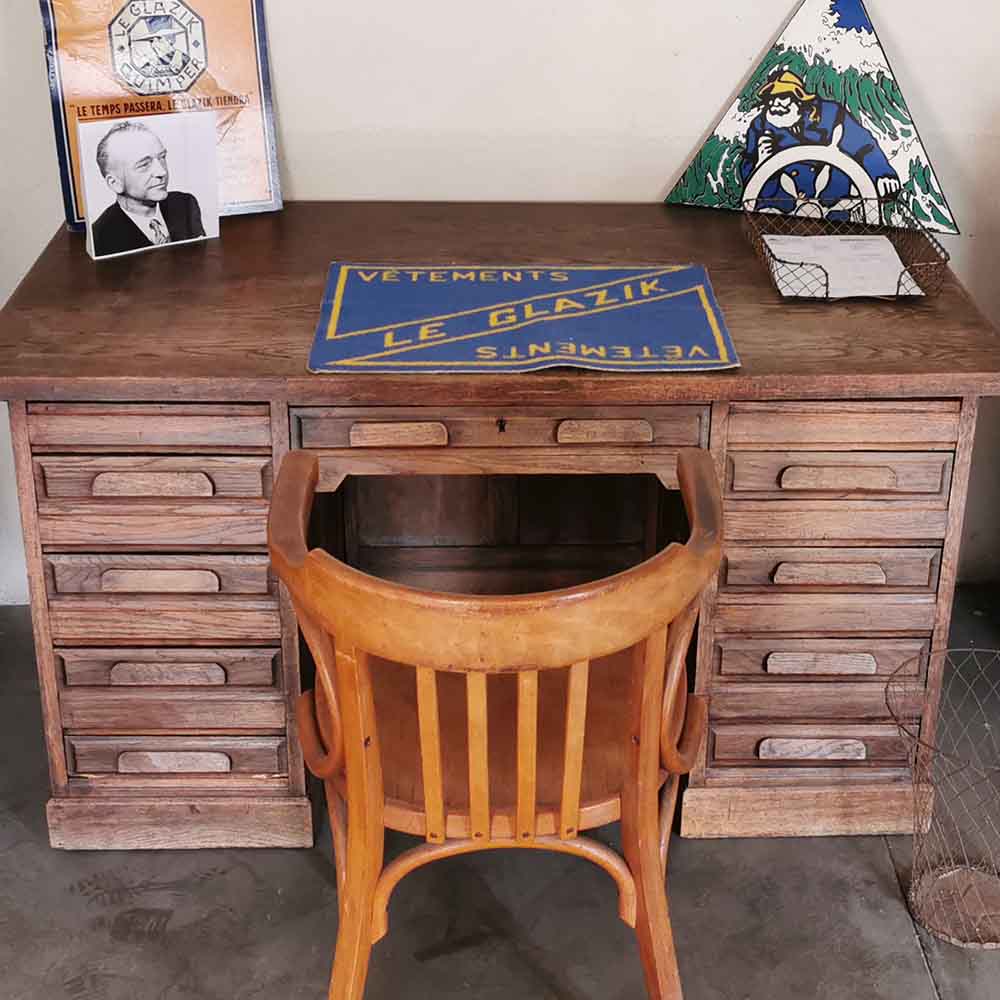 Pierre Guichard desk in Le Glazik factory
It is after the military service that 2 Quimperians, friends of the regiment, returning to Quimper to find the family they had left a few years earlier, that an idea becomes reality.

Project imagined between Pierre Guichard and M. Le Pape during the service: to create a company with the aim of manufacturing marine clothing in Quimper. Today we cannot imagine it, but in the 1920s it was actually small workshops if not directly the sailors or their wives who made the clothes they needed.


The market is present, with significant demand, being a major fishing port. Each being complementary: Pierre Guichard being a textile representative, and Mr. Le Pape being a tailor.

The story begins in 1928 under the impetus of Pierre Guichard. The Guichard-LePape establishments were born.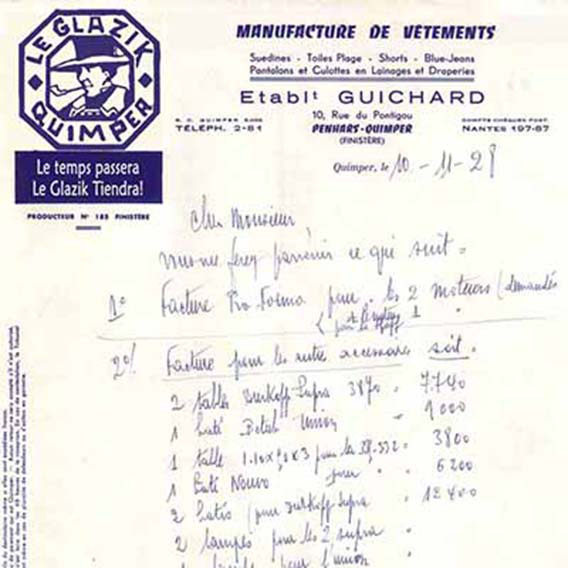 Material order for the workshop dated 1928
They settled in rue du Pontigou, a long building located at number 10 where the first workers took their places.


Finally, Mr. Le Pape quickly left the adventure and the region in 1932, and Mrs. Guichard replaced him in 1933 in the offices, especially in the accounting department.


Soon Le Glazik clothing became known through the efforts of advertising and the totally original ideas for the time of Pierre Guichard. The brand becomes a pride of the city and the region, and everyone supplies the workshop allowing it to develop and enlarge its collection every year.


From the very first years, the famous Le Glazik van takes to the road to carry out its deliveries in the Glazik country, a tool of the factory but above all an effective travelling advertising billboard.
On camera Pierre Guichard, family outing: Madame Guichard and the couple's 3 daughters in 1947.

Already an old vehicle, it will be used until the year 1950, replaced by a "modern" model that the elders in Quimper still remember seeing... but that's another story...